From my many years of healing experience, I can tell you that healing begins when you turn your thought towards Spirit World (i.e., Source, Spirit, angels, divine Allness, heaven, or whatever is your best word to describe the experience of God).
From that place, we can begin to drink in the wonders of holiness and begin remembering who we truly are, our divine origin and nature.
In fact, I've found that the more time I spend in Spirit World, the more powerful the outcomes. Even transformation occurs, often transforming the entire problem into a huge change for the better! And yet, all I did was turn my thought towards Spirit World for healing and allow a solution to come, while I continued to let my thought reside (as best I could) in Spirit. This is often referred to as dwelling in Spirit.
I have learned (and you can too) that Spirit World is a true refuge and a place where you can do much releasing of fears, stress, worries, anxieties, anguish, limitations, and frustrations, which we experience in mass doses in our 3D, physical lives on earth!
Here are graphs showing three different scenarios.  Each of these graphs reveals the amount of time you visit or reside in Spirit World (through prayer, meditation, reflection, contemplation, or any other spiritual practice).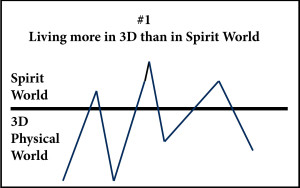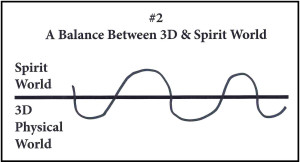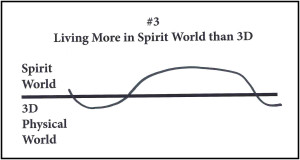 From the first graph to the third one, there is an enormous increase in your spiritual power on earth, just from going to Spirit. As you look at each graph, see which is your current pattern. What percent of your life do you spend in Spirit World? [Read more…]